Welcome to Day 1 of Created By Cori's Favorite Quote Blog Hop!
In this hop, you will see projects featuring favorite quotes from many talented crafty ladies! We hope you enjoy our blog hop today!
If you came from Eva
http://www.evasscrapsncards.blogspot.com/
then you are in the right place!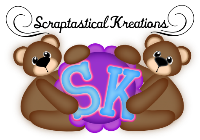 Simply leave a comment to be entered to win! You can have a second chance to win by leaving a message, letting us know you follow Scraptasical Creations on Facebook!
(Ihttp://www.facebook.com/pages/Scraptastical-Kreations/120204111343309)
I made a scrapbook layout for my project today. This layout is of my youngest daughter Mckenzie's concert. She recently just awarded 2 Gold medals for her performaces . Yes, I think she's awesome !! She is a very talented young lady.
My Favorite quote is by Hans Christain Anderson " Where words fail, Music speaks." and it's so true, isn't it?
I Used the Quarter Note cartridge to make this layout. I highlighted Mckenzie by cutting and oval in vellum, placed over her pic .I painted glitter on the vellum (not real happy with that effect) because the vellum looked to plain. I will def try another effect instead of the glitter next time :)
I always leave the layouts I do for Mckenzie's scrapbook a little plain because she likes to add names/ dates and other info to her book.
Well there it is, I hope you like it. Oh by the way I LOVE this cart. if your child is in band or plays any instrumement at all I do recommended it. All 3 of my kids play something so my cart will gets used alot LOL. Be Blessed.
Here's a full list just in case you missed any of the stops along the way...
1. Cori-
http://www.createdbycori.blogspot.com/
2. Ann Marie L.-
http://www.creativeramblings345.blogspot.com/
3. Lori A -
http://www.scrappinmystressaway.blogspot.com/
4. Lucy -
http://love2createitall.blogspot.com/
5. Ryan-
http://www.pieceandpaper.blogspot.com/
6. Sabrina -
http://sabrinabellabeautiful.blogspot.com/
7. Lluvia -
http://www.sweetbirdmemories.blogspot.com/
8. Jamie-
http://www.myamusinglife.blogspot.com/
9. Miranda -
http://www.nanasscrapspot.com/
10. Eva
http://www.evasscrapsncards.blogspot.com/
11. Jackie
http://www.jackrabbitscrappin.blogspot.com/
Thank you for hopping along, we hope you have found lots of inspiration from our Favorite Quotes Blog Hop. Please come back tomorrow for day 2 and see even more great projects!